Students and faculty collected in the Johnson Center Cinema on April 30 to watch and discuss A Fragile Trust: Plagiarism, Power and Jayson Blair at the New York Times. The documentary chronicles the 2003 Jayson Blair plagiarism scandal. After the film, director Samantha Grant joined the audience via Skype from San Francisco to talk about her experience making the film, how she sees its themes, and what she hopes to achieve in telling this story. Beth Jannery, director of GMU's Journalism program, moderated the Q&A. With a mix of journalism and film and media students in the audience, the discussion focused on questions about Blair as an individual, ethics in journalism, and how digital communication is changing the field for writers and readers.
All of these questions are posed by the documentary. "The Blair Affair" story broke when the young Times reporter was caught plagiarizing and fabricating details in several national stories. Though he claimed that he traveled and reported on stories in Maryland, West Virginia, and Texas, he was, in fact, in his apartment in Brooklyn using information and even passages from other articles and also inventing stories to write his pieces. The breach of ethics tainted the Times' reputation and led to the resignation of the newspaper's two top-ranking editors, Howell Raines and Gerald Boyd.
As it crafts its story through interviews with several individuals who were touched by the scandal, including Jayson Blair, here looking back on what happened and what he did. With these multiple perspectives, the documentary considers events in the context of developments at the Times and within journalism as an institution, as a professional practice and set of a moral and social obligations. It notes the emergence of online journalism and the change in management at the Times -- specifically an effort to expand the paper's online "presence," which brought with it an ever increasing emphasis on speed, in investigations and publications.
To its credit, the film doesn't provide definitive answers to the many questions it raises. Grant interviewed Blair three times for the film, and he seems as much in search of resolution as anyone else in the film. He points out his alcoholism and drug abuse at the time, as well as his then-undiagnosed bipolar disorder and feelings of professional inadequacy as possible roots. Blair says, "With lying or cheating or anything else, the myth of believing that you will be caught keeps people from doing things that are unethical, because it doesn't even cross your mind if you believe you will be caught… Once you cross that barrier where you know the chances are you won't be caught, it becomes very hard to discipline yourself."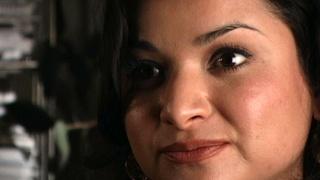 As if to underline Blair's described lack of self-discipline, A Fragile Trust contrasts him with Macarena Hernández, one of the reporters Blair plagiarized. As she reflects on the work she put in to writing a piece on a family grieving the loss of a son in Iraq, Hernandez says, "The only thing you have as a journalist is trust. And it's amazing how people give it to you so freely. I am always amazed when I knock at people's doors… and they'll open their doors, and they'll sit me down in their living rooms, and they'll pour their hearts out. But it's a very fragile trust and that's why it's so easy to lose it." That fragile trust exists between journalist and subject, journalist and reader, and journalist and editor. While Blair broke that trust, reporters like Hernández strive to uphold it. During the discussion following the screening, Grant described Hernández as her "hero." She went on to say that one of her primary motivations for making A Fragile Trust was to "restore faith in journalism" by revealing how Blair's case developed from a particular set of circumstances. She emphasized the importance of journalistic institutions, like the Times, the Washington Post, the Wall Street Journal, and Time magazine. "We need institutional journalists now more than ever before," she said, "Independent journalists can't take on larger institutions like the government on their own." While Blair violated the trust of his co-workers and his readers, through A Fragile Trust, Grant hopes to persuade the public that he was an anomaly in the field of journalism and not an example of typical practices.
A Fragile Trust recently premiered on PBS' Independent Lens, and Samantha Grant spoke on NPR's "Tell Me More" in May.
A Fragile Trust and Samantha Grant's Skype Q&A was sponsored by Film & Media Studies. The event was cosponsored by African & African American Studies, Communication, Criminology, Law & Society, Cultural Studies, English, Film & Video Studies, the Honors College, Psychology, and Women & Gender Studies.
May 26, 2014