Out in the Night is a new documentary by blair dorosh-walther that tells the story of a group of young friends, African American lesbians who are out, one hot August night in 2006, in the gay friendly neighborhood of New York City. They are all in their late teens and early 20s and come from a low-income neighborhood in Newark, New Jersey.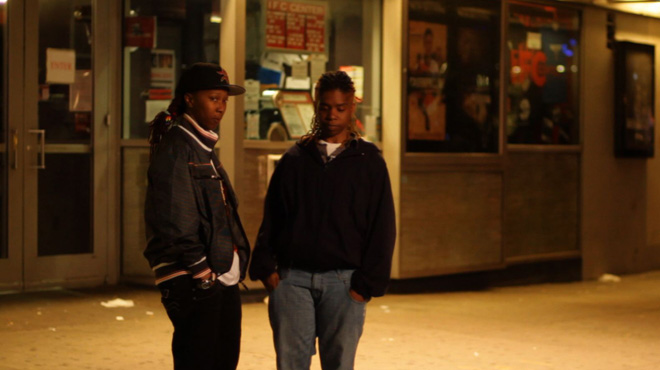 Two of the women are the focus, gender non-conforming Renata Hill, a single mother with a soft heart and keen sense of humor, and petite femme Patreese Johnson, a shy and tender poet. As they and their friends walk under the hot neon lights of tattoo parlors in the West Village, an older man sexually and violently confronts them. He says to Patreese "let me get some of that" as he points below her waist. When she says that they are gay, the man becomes violent and threatens to "fuck them straight." He spits and throws a lit cigarette. Renata and Venice defend the group and a fight begins, captured by security cameras nearby. The man yanks out hair from Venice's head and chokes Renata. Then, Patreese pulls a knife from her purse and swings at him. Strangers jump in to defend the women and the fight escalates.
As the fight comes to an end, all get up and walk away. But 911 has been called and the man involved has been stabbed. Police swarm to the scene as their radios blast out warning of a gang attack. The women are rounded up and charged with gang assault, assault and attempted murder. Three of the women plead guilty. But Renata, Patreese, Venice and friend Terrain claim their innocence. They are called a "Gang of Killer Lesbians" by the media. In activist circles they become known as The New Jersey 4.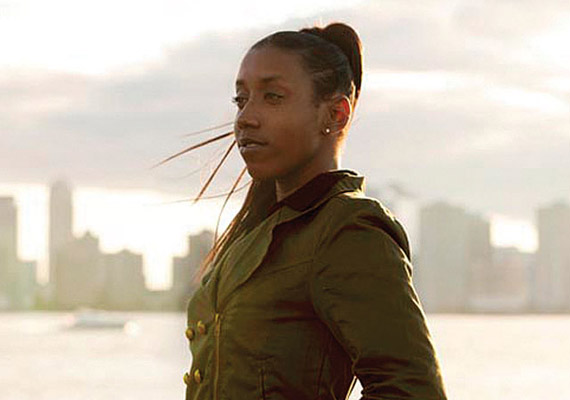 Out in the Night has been selected in 2014 and 2015 for the Los Angeles Film Festival, Human Rights Watch Film Festival, Frameline San Francisco International LGBT Film Festival, North Carolina Gay and Lesbian Film Festival, Outfest, Houston Q-Fest, Milwaukee LGBT Film Festival, Vancouver Queer Film Festival, Long Beach CA Qfilm Festival, GAZE International LGBT Film Festival in Dublin, Ireland, Milwaukee LGBT Film Festival, Columbus (Ohio) International Film Festival/Columbus Urban Pride, Virginia Film Festival, Rocky Mountain Women's Film Festival, London, England Fringe! Queer Film Festival, Brussels, Belgium Pink Screens Film Festival, Brooklyn, NY: Interference Archive Inside/Out, Melbourne, Australia Seen & Heard Film Festival, Jacob Burns Film Center, San Diego, CA Human Rights Watch Film Festival.
Director and producer blair dorosh-walther identifies as gender non-conforming and uses both male and female pronouns, is a social issue documentary director, experienced production designer, and artist with a passion for inspiring action for social justice through media. blair graduated with a BFA in Film from NYU and was awarded the Adam Balsano Award for social significance in documentary filmmaking for hir short documentary "Metsi" on water privatization's impact on women in a South African township. Hir short documentary "Cry Don't Cry" on bereavement experienced through the eyes of a diverse group of teenagers is distributed worldwide through Aquarius Videos and won the National Health Information Awards' Silver Award in 2005. For Out in the Night, blair was awarded the Joyce Warshow Fund from Astraea Lesbian Foundation for Justice, was a Film Independent Fast Track fellow in 2013, and was selected as a participant at the Sundance Producers' Summit in 2012. Out in the Night is her first feature documentary.
The discussion with director blair dorosh-walther, Giovanna Chesler (director of GMU's Film & Video Studies program, as well as the film's producer), and film subject Renata Hill will be facilitated by GMU Women & Gender Studies associate director and program coordinator Tashia Harris.
Out in the Night website - Upcoming screenings - GMU FAMS Event site
Out in the Night and blair dorosh-walther at George Mason University is sponsored by Film & Media Studies and Film & Video Studies. The event is cosponsored by African and African American Studies, Communication, Criminology, Law and Society, Cultural Studies, English, History and Art History, Honors College, LGBTQ Resource Office, Psychology, University Life, and Women & Gender Studies.
Free and open to the public.
October 25, 2014