How does a 16-year-old evolve into a bank robber? In Evolution of a Criminal, filmmaker Darius Clark Monroe searches for the answers -- about himself. Years after his release from prison, Monroe returns to his old neighborhood to speak with family and friends, along with classmates, teachers, law enforcement officials and the innocent victims in the bank on the fateful day of the robbery.
A native of Houston, Texas, Monroe had a happy childhood with his mother, stepfather and close-knit extended family. However, as he grew older and saw his parents struggling to make ends meet, Monroe's vision of the world changed: "I went from being a carefree and joyous child to becoming acutely aware of the fact that the world was not as I saw it. And the burden that my parents had was slowly trickling down to me." Devastated after burglars made off with the family's electronics and other possessions, Monroe stole replacement VCRs from the big-box store where he worked. As his parents' finances continued to spiral downward, Monroe and two friends plotted and subsequently carried out an armed bank robbery.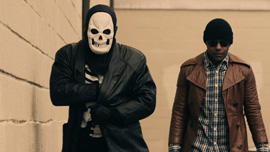 Placing his own culpability at the heart of the story, Monroe pulls no punches, using dramatized scenes of the bank robbery to capture the tragically bad decisions he and his friends made, and to bring home the terror of those they held at gunpoint. An honest journey of reflection and a personal search for redemption, Evolution of a Criminal is more than just a tale of a good kid gone wrong. It's a film filled with compassion for human frailty and the knowledge that a person is not forever defined by their mistakes.
See the trailer.
See the GMU Event page.
Evolution of a Criminal has won the following awards: Buzz Screening (SXSW), Grand Jury Prize (Full Frame), Center for Documentary Studies Filmmaker Award (Full Frame), Special Jury Prize (Dallas International Film Festival), Audience Award for Best Documentary Feature (BlackStar Film Festival), Special Recognition in Directing for Documentary (BlackStar Film Festival), HBO Best Documentary Feature Award (Martha's Vineyard African American Film Festival).
The film was an official selection at these festivals: SXSW, Full Frame, Dallas International Film Festival, Langston Hughes African American Film Festival, Maryland Film Festival, Juneteenth Film Festival, Lighthouse International Film Festival, Los Angeles Film Festival, BAMcinemaFest, BET Experience Film Festival, Revelation Perth International Film Festival, Matatu Film Festival, BlackStar Film Festival, Martha's Vineyard African American Film Festival, 25 New Faces at The Grand Cinema, Docuwest.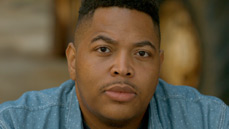 Darius Clark Monroe attended Willowridge High School in Houston, where he was an honors student taking advance placement courses. In his junior year, he and two classmates robbed a Bank of America branch near their high school. Convicted of the crime, Monroe was sentenced to five years in prison; while serving time he obtained his GED and took college courses, eventually deciding that he wanted to become a filmmaker. In 2004, Monroe graduated with honors from the University of Houston with a BA in Communications: Media Production, and subsequently received an MFA from NYU's Tisch School of the Arts. An award-winning filmmaker, Monroe is a National Board of Review, HBO Short Film and Urbanworld Best Screenplay award recipient. Most recently, he was selected to participate in the prestigious Screenwriters Colony and chosen as a fellow at the Sundance Institute Screenwriters Intensive. Evolution of a Crim
inal is his first feature film and is the recipient of an Austin Film Society Grant, Spike Lee Production Fellowship, Warner Bros. Film Award, Cinereach Grant, King Finishing Award, Tribeca All Access Participant, and a selectee of the IFP Documentary Lab.
Darius Clark Monroe will be the guest for Studio A on Friday 14 November at 3pm.
Our discussion with Darius Clark Monroe on Thursday will be faciliated by Wendi Manuel-Scott, Director of African and African American Studies.
Evolution of a Criminal and Darius Clark Monroe at George Mason University is sponsored by Film & Media Studies and Film & Video Studies. The event is cosponsored by African and African American Studies, Communication, Criminology, Law and Society, English, History and Art History, Honors College, Psychology, University Life, and Women & Gender Studies.
November 13, 2014